Pumpkin Seeds, 1/2 Cup, Water, Melon Seeds, 1/2 Cup, Jaggery, 3/4 Cup, Ghee, 1, Tbsp, Pumpkin and Water Melon Seeds are good for prostate health. These seeds have more medicinal values, Take Jaggery in a pan and add 1/4 cup of Water and heat until the Jaggery is completely dissolved, Take a pan, add Ghee and roast Pumpkin and Water Melon Seeds until light Golden Brown Strain the syrup to remove any impurities When Roasted light Golden Brown remove from the stove Add the Jaggery syrup to the same pan Grease a plate with little Ghee Boil until you get a hard ball.
Consistency Leave a drop of Syrup in water to know the right. Consistency Now add the roasted seeds and mix. Well, Pour this mixture onto a greased plate and let it cool Now cut into pieces when it is still warm, Let it cool completely and take out the pieces, Pumpkin and Water Melon Seeds. Burfi is ready. Both seeds are healthy. These Seeds contain host of nutrients. This helps in lowering down sugar level blood pressure and helps in healthy heart.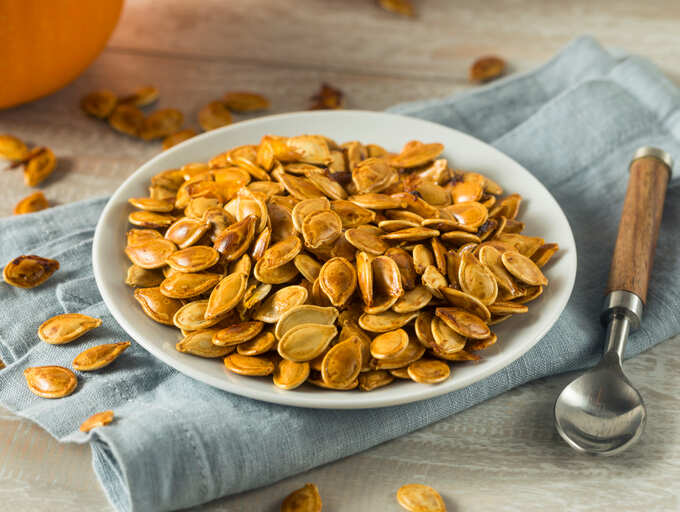 The power of antioxidants are more. These seeds are good for Prostate Health And also good for Kidney and Hydrocele problems. This contain many micro nutrients Watch Mouth Freshener in our Channel. You can also dry roast these seeds and include in your diet, daily, Try and enjoy this healthy, Burfi Post your comments and Subscribe for more Healthy Recipe, Thanks for Watching
---
A new kind of pumpkin seed snack! Roasted by two men.